FROM YOSHIMASA HIGASHI (AKA: Yoshimax)
my name : Yoshimasa Paul Higashi (This is my real full name)
but, also I create films and comics with these names too;
Yoshimax / Jownmakc / Yoshi Higashi
Recent films of mine, the TITLES;
"MASK TRIP"
LINK: (feature)
https://www.youtube.com/watch?v=rEsumSDnWQU
FOTO of the FILM;
"TAKA KURA OMEGA"
LINK: (short)
https://www.youtube.com/watch?v=CR1Dr-Wm1DI
FOTO of film;(Taka Kura Omega)
PROFILE BIO:
Yoshimasa Higashi (YOSHIMAX)
Born 1973

- STUDIED FILM AT OUA, OSAKA UNIV OF ARTS (filmschool)

profession:manga-creator, filmmaker, film lecturer

Having: PHD at University of Kitakyushu
Creating comic for the East Europa comic mag"Devetka"
As a comic-creator, biz-name is YOSHIMAX.
2010-2018: Had experiences as a film lecturer at University of East Asia & KDU.
While making comic, doing filmmaking independently, and had screening
at some international film festivals like Global India Film Festival
(where a work got the script-award)
and FILMSTOCK.
In the near future: planning the extended version of a fantasy sci-fi JIDAIGEKI, Taka Kura Omega.
(will-be) "TAKA KURA OMEGA WORLD."
For the project, he wants to be the writer-director.
He also looked for getting the sense of JIDAIGEKI in the Master Session in the center, KYOTO.
(Kyoto Filmmakers Lab. 2019) He also attended the Italian Film Session of CINEMADAMARE.
Also, MASK TRIP was screened in India's TAGORE FILM FEST 2020.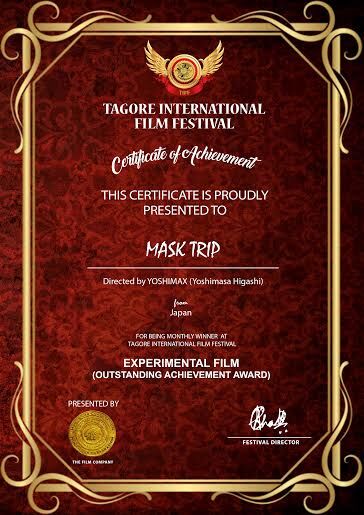 PHOTO OF YOSHIMAX:
(center)
ANSWERS OF THE QUESTIONS;
How did you become interested in cinema? (When answering this question, please refer to the state of cinema and the geography of your country and the fans or anything else you think will be interesting for the readers of the world and eager to make a film)
I was seeing when I was a boy, the films of Steven Spielberg, George Lucas, Hayao Miyazaki, James Cameron. That was the point I started to love films. In my boyhood, movies were really entertainments for children. And especially in Japan, ANIME was really pop. Hayao Miazaki changed the expressons of Japanese animation. And his film were very fun and interesting for kids. He was the wizard of ANIME of Japan.
Also, Hollywood sci-fi films were fun to us. Hollywood sci-fi ones were looking so nice and great for the expression of the live-actions. It was really fun, but Hayao Miyazaki did the same or bigger entertainment as Hollywood sci-fi fantasies. I was lucky that I could see Miyazaki films when I was a boy. It is still my great memories...
So, I include ANIMEtica expressions into my own made films.
Also, I liked KUROSAWA, KATSUHIRO OTOMO, and many.
I loved Wim Wenders sci-fi, "Until the End of the World" … it was not hit, but still a cool cinema.
My nex sci-fi will be like that.


How did you make your first film (please write to me about your personal efforts as well as the hardships and… who helped you or anything else that will be interesting for other people who are just starting out).
I made my first feature when I was 30. My filmschool friend helped me.
It was a kind of fantasy..., it was called "Modern Legends", and we the film group, (at that time, the group was called LOUVY JAPON) screened the film at the VAN CITY THEATRE of Vancouver, Canada. (Also, in Hong Kong)
Before that, I made some shorts, but making feature films were a kind of different experience. Much bigger efforts, we needed.
To finish all process, we needed much much longer time...
Sometimes, editing was harder. I saw the same cuts again and again and again , and took many many many times.
Well, … but I loved. I loved filmmaking!
Also, filmmaking is like adventures. It is like a trip to another universe.
I LOVED IT AFTER ALL!!
Yoshimax
2020
FOR INDIA